Hogar / Tarjeta SIM Internacional / OneSimCard PLUS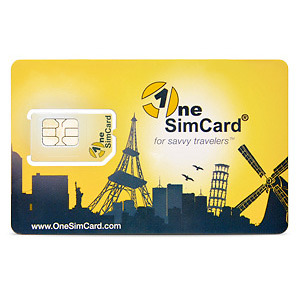 OneSimCard PLUS
Teléfono, mensajes y datos
Tarjeta SIM Tamaño Universal – Tamaño Mini, Micro y Nano
Incluye 2 números:

Europa y EE.UU., Canadá, Reino Unido o Australia

Agregue números en más de 60 países
Cobertura en más de 200 países
Paquetes de descuento disponibles
Servicio de correo de voz con entrega gratis al correo electrónico
Llamadas entrantes recibidas en la UE en número 162 países. Llamadas salientes desde 25c/min
Soporte técnico en vivo 24/7
Envío gratis a Estados Unidos para pedidos de más de $50
Envío gratis a Canadá para pedidos de más de $100
Overview
Tech Specs
Shipping
Reviews
In The Box
What Is The OneSimCard Plus International SIM Card?
It's your passport to low-cost prepaid cell phone service while traveling abroad and in the US, Canada, Mexico, Puerto Rico and US Virgin Islands.

OneSimCard Plus global SIM card is a small electronic chip which when inserted into an unlocked GSM cell phone enables the phone with international mobile service.
The OneSimCard Plus SIM card is designed specifically for international travelers who:
Want inexpensive international cell phone service - Voice, Calls and Data around the world, including in the USA and Canada
Want to keep their domestic cell phone number while also having one European number (and an optional local or toll free Second Number) no matter which country they are in
Already have a unlocked GSM or 3G phone
Here's how it works: The OneSimCard Plus global SIM card comes pre-programmed with both a European and U.S. phone number. You can keep your U.S., Canadian or other phone numbers by forwarding them to the U.S. number that comes with the SIM card or one of our other optional local or toll free Personal Extra Numbers (PEN).
If you do not already own an unlocked GSM phone, you should consider purchasing an international cell phone bundle from OneSimCard.
To learn more about the differences between international SIM cards, visit our FAQ section.
What Customers Say
We consistently strive to offer our international SIM card customers the best possible experience. This includes providing friendly customer support, fast product shipping, improving our products and services, decreasing the cost of mobile services, and affordable pricing. But don't take our word for it, here are some real, verified reviews that our past customers have left about OneSimCard.com


© 2006-2017 Belmont DBA OneSimCard.com. Telecom Inc., Todos los derechos reservados